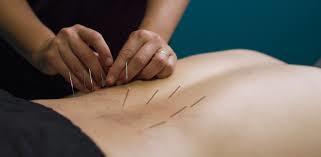 Dry Needling has become an increasingly popular treatment in the field of physical therapy within the last decade. Despite its increased popularity, I often get many questions in the clinic about dry needling, how it works, and what conditions it may help.
So let's get to the point (get it?) and learn a little bit about dry needling.
Let's cover the basics-
What is dry needling? Dry needling is a treatment that utilizes a filiform (non-gauged) needle to penetrate the skin and or/ underlying tissues to elicit change in the body structures and functions of the musculoskeletal system. How does it work? Dry needling has a few mechanisms in which it works. It can increase blood flow and oxygen to the region which are needed for healing. Dry needling can sometimes cause a "local muscle twitch response," which is an involuntary response that can improve the length and tension within a muscle. Finally, dry needling can also cause a response from the body's nervous system to reduce it's sensitivity to pain signals.
What conditions can dry needling help? Dry needling is indicated for those with muscle pain, especially with trigger points present, muscle strains and sprains, tendinopathies, osteoarthritis, etc. (Examples: low back pain, shoulder pain, headaches, tennis elbow, hip pain, etc)
Now that we've covered the basics, here is some additional important information:
Dry Needling is NOT acupuncture. It is important to make this distinction. Acupuncture is rooted in ancient Chinese medicine utilizing guiding principles of meridians to restore energy flow and balance. Dry Needling is based upon modern Western medicine and focuses upon the musculoskeletal system. The needles are placed into trigger points or tender spots within muscles to decrease pain and restore normal function.
Dry Needling should be a part of a comprehensive Plan of Care. This means that it is very, very likely that dry needling in solidarity will not solve your musculoskeletal issue. Dry needling is just one piece of the puzzle! Pair this up with prescriptive exercise and other manual therapies and you will have a much better result and well-rounded plan of care.
Don't just take my word for it! There is great research that backs dry needling as an effective treatment for musculoskeletal conditions. For example, in a research study completed by Uygur et al, they compared trigger point dry needling to NSAIDs, topical creams, ice, and brace use as a first line treatment. They found that dry needling was equally as effective at 3 months and significantly more effective at 6 months. This suggests that dry needling combined with the appropriate rehabilitation program has the potential to be even more effective without the need for injections or surgery. For more great research on dry needling please check out some of the articles listed below.
We hope this answers your questions about dry needling! If you have any additional questions about dry needling or dry needling for a specific condition, take us up on our free consultation call!
Bee Well, Dr. Athena
Citations:
1. Description of Dry Needling In Clinical Practice: An Educational Resource Paper. APTA; 2013:1-7.
2. Dommerholt J, Fernandez-de-las-Penas C, Chaitow L, Gerwin RD. Trigger Point Dry Needling. An Evidenced and Clinical-Based Approach.
3. Legge D. A History of Dry Needling. J Musculoskelet Pain. 2014;22(3):301-307. doi:10.3109/10582452.2014.883041
4. Caramengo J, Adrian L, Mueller L, Purl J. Analysis of Competencies for Dry Needling by Physical Therapists. Published 2015. https://www.fsbpt.org
5. Koukoulithras I, Plexousakis M, Kolokotsios S, Stamouli A, Mavrogiannopoulou C. A Biopsychosocial Model-Based Clinical Approach in Myofascial Pain Syndrome: A Narrative Review. Cureus. 2021;13(4):e14737. doi:10.7759/cureus.14737Shah
6. JP, Thaker N, Heimur J, Aredo JV, Sikdar S, Gerber L. Myofascial Trigger Points Then and Now: A Historical and Scientific Perspective. PM R. 2015;7(7):746-761. doi:10.1016/j.pmrj.2015.01.024
7. Gattie E, Cleland JA, Snodgrass S. The Effectiveness of Trigger Point Dry Needling for Musculoskeletal Conditions by Physical Therapists: A Systematic Review and Meta-Analysis. J Orthop Sports Phys Ther. 2017;47(3):133-149. doi:10.2519/jospt.2017.7096
8. Rees JD, Maffulli N, Cook J. Management of tendinopathy. Am J Sports Med. 2009;37(9):1855-1867. doi:10.1177/0363546508324283
9. Dembowski S, Westrick R, Zylstra E, et al. Treatment of hamstring strain in a collegiate pole-vaulter integrating dry needling with an eccentric training program: A resident's case report. Int J Sports Phys Ther. 2013;8(3):328-339.
10. Dunning J, Butts R, Young I, et al. Periosteal Electrical Dry Needling as an Adjunct to Exercise and Manual Therapy for Knee Osteoarthritis: A Multi-Center Randomized Clinical Trial. Clin J Pain. 2018;34(12):1149-1158. doi:10.1097/ajp.0000000000000634
11. Cotchett MP, Munteanu SE, Landorf KB. Effectiveness of Trigger Point Dry Needling for Plantar Heel Pain: A Randomized Controlled Trial. J Phys Ther. 2014;94(8):1083-1094. doi:10.2522/ptj.20130255
12. McDevitt AW, Snodgrass SC, Cleland JA, et al. Treatment of individuals with chronic bicipital tendinopathy using dry needling, eccentric-concentric exercise and stretching; a case series. Physiotherapy theory and practice. 2020;36(3):397-407.
13. Uygur E, Aktas B, Özkut A, Erinc S, Yilmazoglu EG. Dry needling in lateral epicondylitis: a prospective controlled study. International Orthopaedics (SICOT). 2017;41(11):2321-2325. doi:10.1007/s00264-017-3604-1